Wrapping

| | |
| --- | --- |
| | Wrapping can be the piece that "makes or breaks" your basket design. A great looking basket can be made less attractive with an improper wrapping job. We offer rolls of polypropylene, shrink-wrap, and bags. All of these can be used to create the beautiful finishing touch on a basket. Which type you choose will depend on personal preference. For more details in helping choose, contact our customer representatives. Whatever method you choose, be sure to plan ahead before you wrap, so that you can get the coverage you need without excess waste. |
The Deluxe Super-Sealer™ Portable Shrink-wrap System provides everything you need to capture that professional touch with ease. It's the perfect way to add a finished look to gift baskets and other gift containers. This product is available by special order only.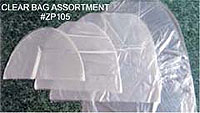 Use a transparent bag or slide the gift package into the special Super Shrink™ transparent film from the roll to cover the completed gift basket.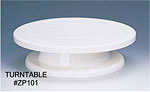 Place the covered basket on the turntable, tucking the excess wrap under the basket. Move the heat gun around the lower portion of the object in a continuous side-to-side motion until wrapping shrinks to conform to the basket. For best results, maintain distance and consistency of heat.

Continue moving the heat gun about 15" from the surface until smooth. The turntable can be rotated as you go. Item 55100 is a special order only product.
Finally, lift the basket from the turntable to heat-shrink the excess wrap at the bottom.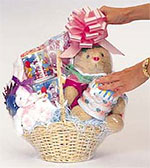 Do not point the heat gun in the same area for an extended period. It will melt the wrap and cause a hole to form.
Handle With Care
Keep hands away from the front of the gun as you turn the basket. The heat gun uses extreme heat and could cause serious burns. Extreme caution is recommended.
Video: How to Shrink Wrap a Gift Basket