Giftbeat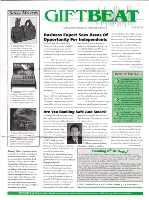 burton + BURTON® was pleased to be ranked in the Top 10 recently in TWO of GiftBeat Magazine's National Charts.
burton + BURTON was listed as one of the top Valentine's Day lines and on the Highest Markups chart (meaning b+B products are ideal for buying inexpensively at wholesale and selling at premium price points at retail). Steve Casso, burton + BURTON general manager said, "Now more than ever, retailers are demanding on-trend products at a great value. National recognition from an unbiased, major industry publication points to the fact that we are successfully meeting those demands."
According to GIFTBEAT magazine:
"The data for GIFTBEAT are calculated each month according to a point system...Data are supplied by the owners of traditional card/gift, trendy card/gift, collectible/gift and gift/home décor stores that represent every region of the country...In addition none of the retailers who participate are affiliated with any vendor. The identities of the store owners who supply their monthly sales information are kept confidential...Tabulations are conducted by Suburban Associates, a New Jersey market research firm."
For more information on GiftBeat magazine go to www.giftbeat.com.