Air-Fill Base Solutions
Pot Cover + Foil Balloon Solution
This base solution is created by attaching an inverted cup (Item#CC107) to a container using adhesive (Item# 82735). Insert an air-filled balloon wand and add ribbon, candy and shred to create a wonderful air-fill design that is sure to catch the eyes of your customers!
---
Multiple Balloons + Pot Cover Solution

This base is created by securing three inverted balloon cups (Item#CC103) inside a container using adhesive (Item#82735).  Create coordinating balloon wands using the HPS24 sticks  and CC103 cups , two 11" latex and one 18" foil balloon.  Cut the stick length to 15" for the foil balloon and 6" and 9"  for the latex balloons.  Add ribbon, candy, and shred to the creation and your air-filled bouquet is ready to wow customers!
---
Mini-Tote Bag Weight Solution

This solution provides a base for a balloon wand made using the HPS24 sticks  and CC103 cups . Cut the HPS24 stick in half to a length of 12" and secure into the mini gift bag using stick 'em tape.  Embellish the wand with ribbons and curls to customize your creation!
---
 Stackable Solution
Air-fill a shape balloon + MagicArch clovers. Tie a length of ribbon to the tail of the shape balloon and pull through the center hole in the clover(s). Pull until tight and attach to the bottom of the clover with adhesive tape. For more stability, tie a balloon weight to the ribbon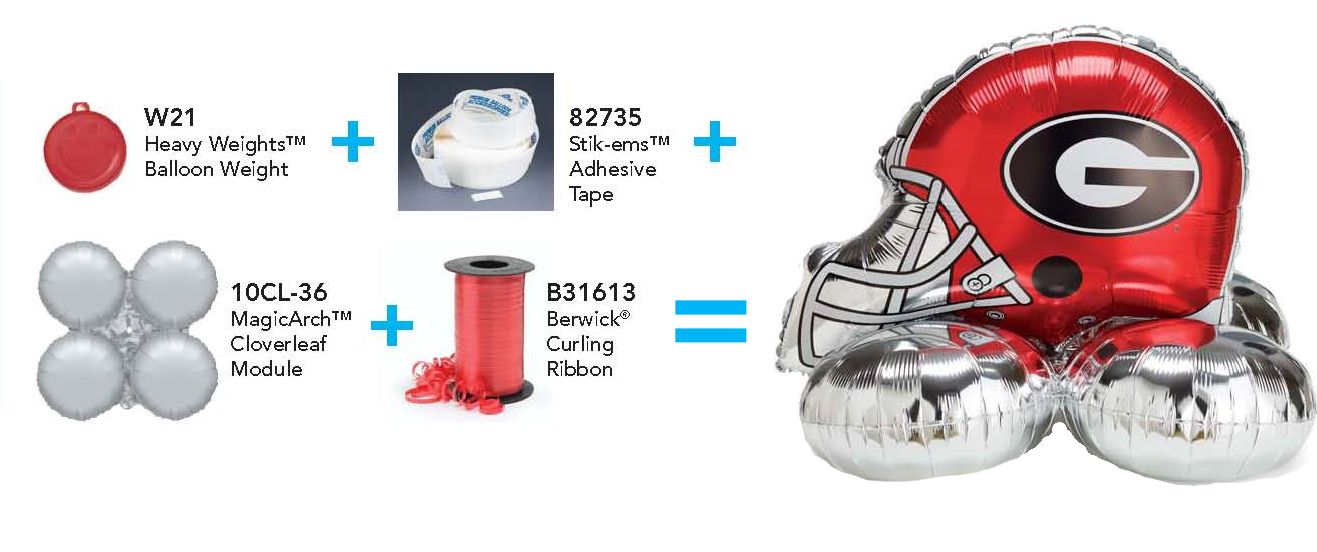 ---
This page is dedicated to base solutions only. For more information on how to create the air-filled balloon wands utilized above please visit our 18" Solution or Bubble solution page(s).